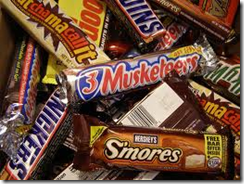 The PERFECT Party Candy Bar Matching Game!
Write the names of the candy bars on cards (2 of each) and play just like a card matching game only the person who finds the matching cards wins the candy bar! You could do fun-sized bars and multiples of each to make the game last longer. This is a game EVERYONE will love!!
。.:*・°☆.。.:*・°☆.。.:*・°☆
Click HERE for lots of other freebies, giveaways, DIY projects, sweepstakes and more!!
☆.。.:*・°☆.。.:*・°☆.。.:*・°☆.。